Working with Society
Noevir Green Foundation
In March 2013 we established the Noevir Green Foundation with the objective of developing children who will be our future and to create a fulfilled society. In December 2013, it shifted to become a public interest incorporated foundation and conducts activities contributing to society through publicly beneficial projects related to such matters as preservation of the global environment and popularization and development of sports.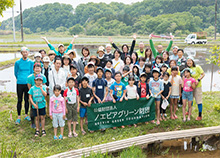 Involvement with Communities and Society
Disaster Support Activities
Forest Preservation in the Rokko Mountains
In July 2008, we took part in the Rokko Mountains Greenbelt Development Project started by the Ministry of Land, Infrastructure and Transport. We have been engaged in forest preservation activities to protect and nurture forest areas that can prevent landslides in a project related to recovery from the Great Hanshin Earthquake. The Noevir Green Foundation has conducted this activity since 2013.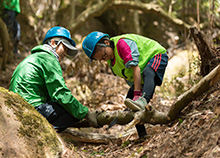 Helicopter Support During Disasters
In 2005, Noevir Co., Ltd. signed an agreement with the Shiga prefectural government to provide helicopter support at the time of a disaster such as an earthquake. In the event of a large-scale disaster occurring and upon a request from the Shiga prefectural government, the Noevir Group helicopter will be dispatched to be used for transporting medical staff, medicines or relief supplies, or for surveying the state of the disaster, or other reasons.
Following the Great East Japan Earthquake, the Noevir helicopter was used to transport physicians and relief supplies to areas that had been hit by the disaster.
Helping Children Grow Up at Yoro Green House Surrounded by Nature
In October 2014 we established the Yoro Green House on Yoro Island in Kagoshima Prefecture. The facility accepts elementary and junior high school pupils and engages in activities aimed at the sound development of children and energizing the local community.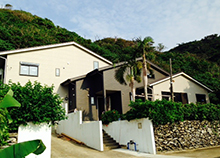 Welcoming Company Visit Programs
We welcome workplace tours as one aspect of junior high school field trips or integrated studies.
In addition to describing the details of business and types of work that employees perform, we also undertake activities such as practicing skincare. We continue these activities to contribute to enabling junior high school students to decide their future or to have an opportunity to think about occupations.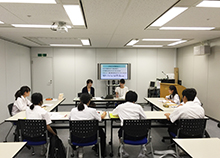 Initiatives Involving the Public, Private and Academic Sectors
We are engaged in joint research with numerous universities across a wide range of activities from identifying the compounds of cosmetics, pharmaceuticals and foods to developing new materials and holding public seminars. Looking ahead, we will strive to contribute to society by earnestly engaging in specialized research and focusing further on utilizing the results to develop even higher quality, safer products.