Working with the Environment
Working with the Environment
The Noevir Group incorporates the perspective of preserving the global environment and energy environment and endeavors to reduce the impact on the environment through its business activities, such as by producing environmentally friendly products and reducing the amount of CO2 emissions.
Basic Environmental Policy and Structure
Effective use of limited resources 
We shall promote resource conservation, resource recycling, and energy saving, and strive to reduce energy, water, paper, and other resources.
Sustainable procurement of raw materials
We shall promote the development of formulations using raw materials that take nature conservation into account and materials that are safer for the environment, etc.
Sales and marketing activities, etc., with consideration for reducing environmental load
We shall strive to provide customers with products that take into consideration the reduction of environmental load.
Reduction and recycling of waste materials
We shall promote the reduction and recycling of all waste materials related to our businesses.
Compliance with relevant laws and regulations, etc.
We shall comply with laws and regulations, etc., related to matters such as environmental conservation, and endeavor to protect the environment and prevent environmental pollution.
The Company has established the Environment Committee to further promote existing initiatives to reduce environmental load across all Group businesses. The Environment Committee ensures a system that accurately and promptly executes and promotes groupwide reduction of environmental load, which is one of our key management issues. To this end, the committee is made up of directors and other members from divisions engaged in identifying climate change-related risks and opportunities in the Group's businesses. It highlights issues and responses in the Group's businesses related to the environment and climate change and reports to the Board of Directors in a timely manner.
The Board of Directors receives reports from the Environment Committee and supervises environmental and climate change issues and responses.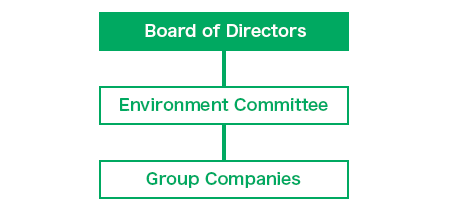 Environmental Initiatives
We regard environmental issues as significant issues in our corporate activities and are promoting environmental activities based on our basic policy.
1.Promoting the reduction of container and packaging material waste
Promoting the development of environmentally friendly containers and materials
We are working to develop containers for cosmetics, etc., that contribute to reducing environmental load by using environmentally friendly containers and packaging materials such as plant-derived plastics (biomass plastics) and FSC-certified paper.※
※FSC-certified paper: Paper made from wood from responsibly managed forests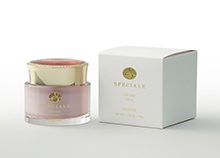 Use of FSC-certified paper
for cosmetic boxes and
change to a compact shape
(Noevir SPECIALE cream)
"4R" Initiatives for Waste Reduction
Reduce
We are reducing paper use by simplifying packaging, as well as actively using FSC- certified paper and 100% recycled paper.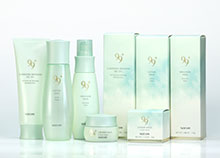 Use of bagasse paper, a non-wood paper,
for cosmetic boxes
(Noevir 99 Plus skincare line)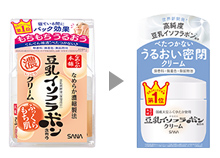 Change from plastic to FSC-certified paper
for outer packaging
(Nameraca Honpo cream NC)
Reuse
We are working to reduce plastic use by using refill packages.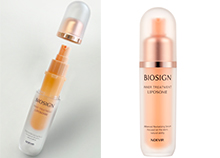 Use of refill packages
(Noevir BIOSIGN INNER TREATMENT LIPOSOME)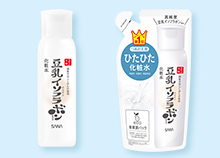 Use of refill packages
(Nameraca Honpo skincare brand)
Replace
To reduce plastic use, we are promoting environmentally friendly products by switching to environmentally friendly materials (recycled plastic, biomass plastic, etc.) and adopting environmentally friendly inks (biomass ink, etc.).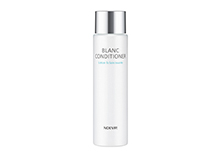 Use of biomass plastics for containers
(Noevir BLANC CONDITIONER)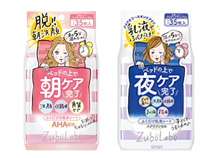 Use of biomass ink for outer packaging
(ZuboLabo*)
*Excluding some products
Recycle
We collect empty containers and recycle them through our "noevir green recycle" activities. The collected containers are recycled into fuel such as RPF (solid fuel).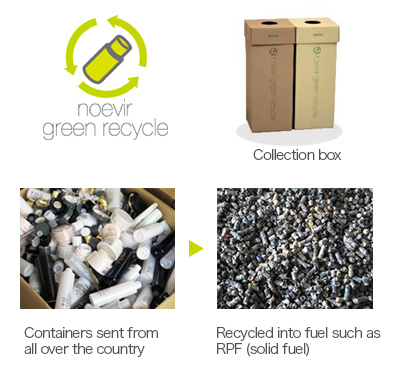 2. Procurement of sustainable raw materials
Development of plant extracts through in-house cultivation
Our company-owned Hokkaido Shokanbetsu Mountain Pilot Farm has obtained the organic food standard JAS organic certification for the in-house cultivation of plants for cosmetic use and is committed to the conservation of biodiversity.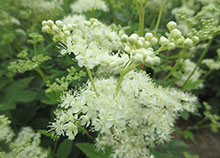 Organic cultivation of
medicinal herbs at
our company-owned farm
(Photo:meadowsweet)
Development of environmentally friendly formulations
Cosmetics are made possible with the benefits of natural capital such as plants and the water, soil, and atmosphere that nurture them. To develop sustainable cosmetics, we promote the development of formulations using raw materials that take nature conservation into account, materials that are safer for the environment, and upcycled raw materials.
3. Production system designed to reduce environmental load
Waste management and water quality preservation
In order to sort waste into 18 categories and dispose of it in an environmentally friendly manner, we inspect treatment sites from the stage of selecting our waste disposal contractors. In addition, we endeavor to prevent water pollution by minimizing water consumption in the manufacturing process as much as possible and managing wastewater at wastewater treatment facilities in compliance with the relevant laws and regulations and regulatory figures of local ordinances.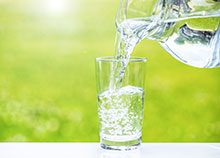 Electricity saving project
In addition to replacing equipment with energy-saving versions and analyzing and addressing electricity and fuel consumption through a project team (electricity saving project) to streamline factory operation, we are teaching employees to avoid idling when using delivery trucks and company vehicles.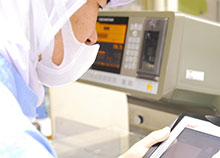 Shift from heavy oil to LNG
We have changed our steam boiler's energy source from conventional heavy oil to LNG (liquefied natural gas). LNG has a high calorific value, produces less air polluting substances than heavy oil, and reduces CO2 emissions by about 30%.
LNG (liquefied natural gas) tank

(The Mie Factory of
TOKIWA Pharmaceutical Co., Ltd.)
Effective use of water resources
We have introduced a circulation system water recycling and reuse system to cool and reuse water used for product sterilization after filling, thereby reducing water consumption and wastewater volume and making effective use of water resources. This minimizes overall energy consumption related to water use and reduces CO2 emissions.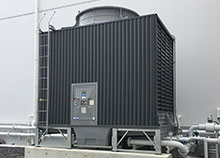 Water recycling and reuse system

(The Mie Factory of
TOKIWA Pharmaceutical Co., Ltd.)
4. Sales and marketing activities aimed at reducing environmental load
Reduction of environmental load in sales promotion activities
We have changed in-store promotional displays from styrene to paper board for environmentally friendly sales promotion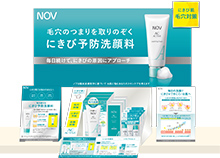 Change from styrene to paper board
(NOV brand in-store promotional display)
Shiga Factory
At the Shiga Factory, the main factory for the production of quasi-drugs and cosmetics, we have built a management system complying with the Technical Guidelines for Production Management and Quality Management of Cosmetics (Cosmetics GMP), as well as manage the entire factory under an original production management system.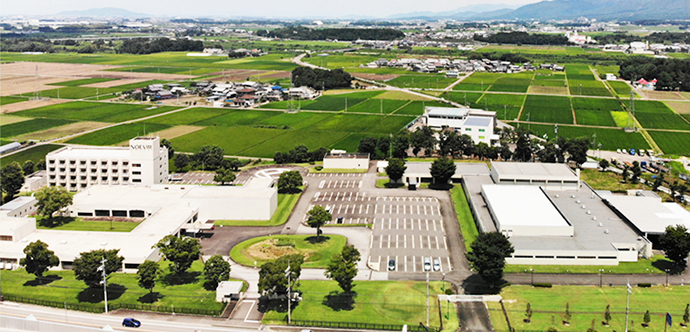 Mie Factory
At the Mie Factory, the main factory for drinks, we comply with the Ministerial Ordinance on Standards for Manufacturing Control and Quality Control for Drugs and Quasi-drugs (GMP※) in the production of pharmaceuticals and quasi-drugs.
※GMP:Good Manufacturing Practice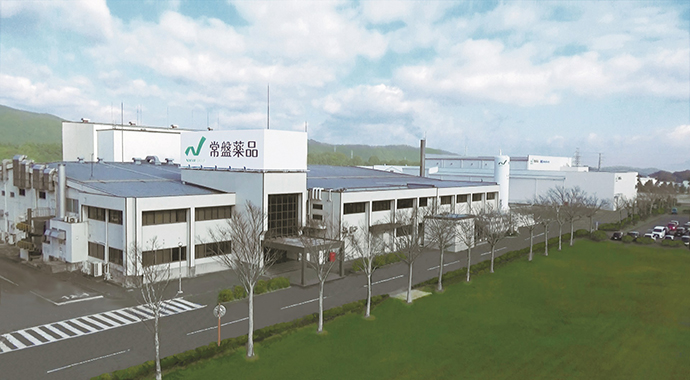 Climate change response
In response to climate change, which is an urgent issue in global environmental conservation, the Group is committed to reducing its CO2 emissions step by step.
CO2 emissions of the Group
(Scope3 details are shown by category.)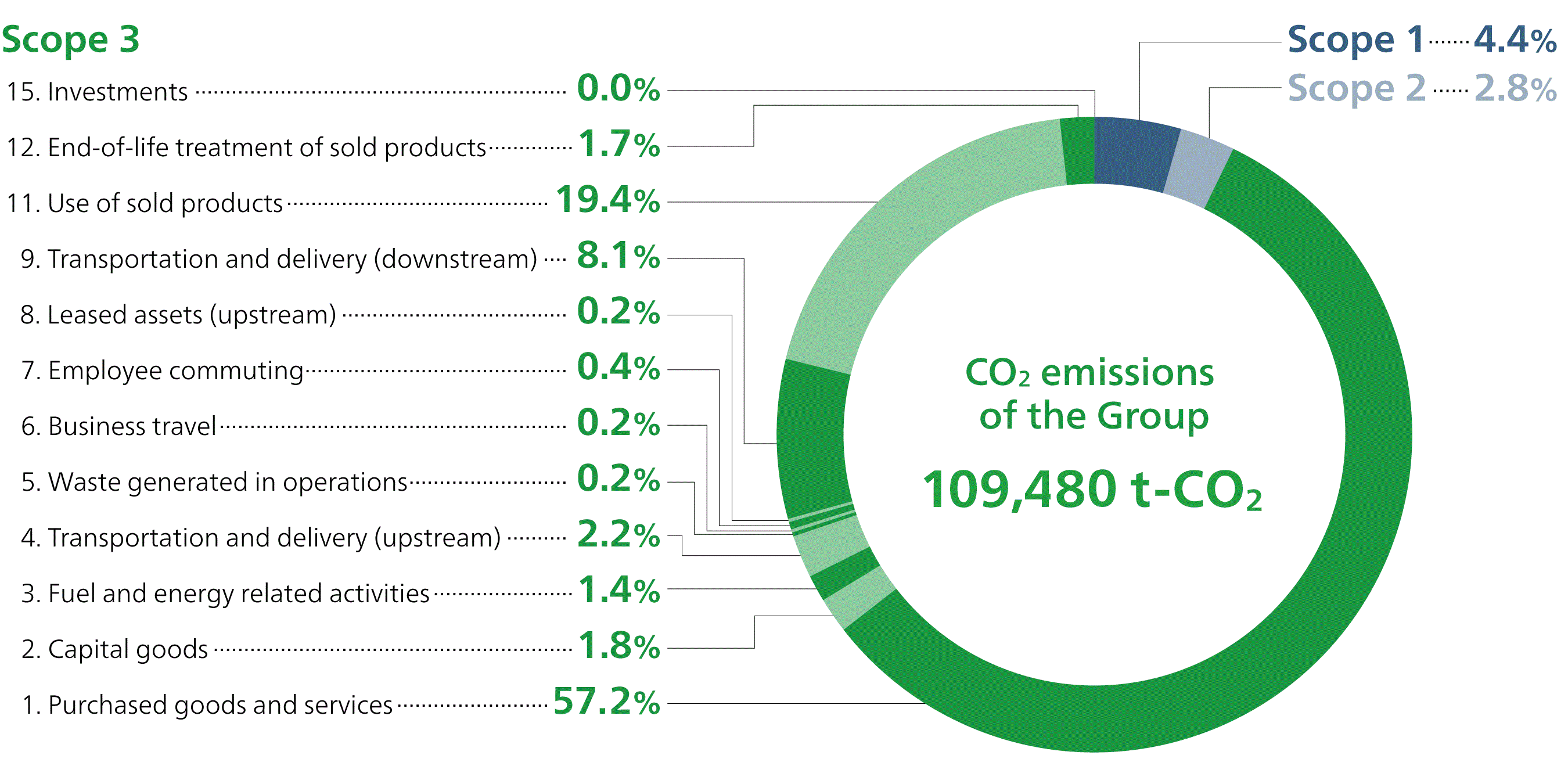 Scope of calculations: Japan
Period of calculations: October 2021 - September 2022