Working with Employees
The Noevir Group facilitates the creation of comfortable workplaces that enable individuals of diverse backgrounds to fulfill their potential.
Each Group company's (Noevir Co., Ltd., TOKIWA Pharmaceutical Co., Ltd. and TOKIWA Medical Service Co., Ltd.) Japanese-language website contains action plans based on the Act on Advancement of Measures to Support Raising Next-Generation Children and the Act to Advance Women's Success in their Working Life.
Respecting Diversity
Supporting Employees' Success
As of September 30, 2023, the number of Noevir Group employees totaled 1,368 with a male to female composition of 648 to 720. The ratio of managerial positions held by women is 30.1% (58 out of 193 managerial employees).
At present, our aim is to maintain an overall ratio of managerial positions held by women of 30% or more. As such, the Group is striving to ensure equal opportunities for career development, regardless of gender.
Re-employment System
We provide an opportunity to once again thrive in the Company for people who have previously resigned as employees for one reason or another by broadening the window to return to work through a re-employment registration system.
Noevir Holdings Co., Ltd.
After joining Noevir's sales team, I became increasingly interested in creating worker-friendly human resource systems and working environments, and I eventually developed a strong interest in working in Human Resources. I wanted to build a career in HR while I was still young, but lacking qualifications and experience, it was difficult to obtain an internal transfer at that time, so I made the decision to resign and work in HR at another company.
At the new company, I was mainly responsible for new graduate and mid-career hiring. I experienced both the stress and satisfaction of engaging with people face to face, and day by day I became increasingly certain that I wanted to return to the Noevir Group and use the new skills I had gained.
I acquired HR-related qualifications, such as studying labor-relation operations, and made the decision to apply to the Noevir Group's reemployment system. I have learned and grown a lot through my experience of changing companies, and now my catchphrase is "Build experience and seize opportunities for further growth!" I look forward to making the best use of everything I have learned at my new position in Noevir Group .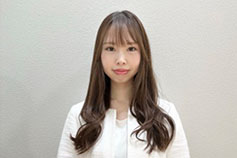 Human Resources
Kaori Iba
Noevir Co., Ltd.
I started my career as a new graduate in Noevir's Overseas Business Development Department. Unfortunately, due to the unforeseeable impact of COVID-19, I wasn't able to work overseas as I had envisioned, and I inevitably decided to resign.
At my next job, I was assigned to a department in Japan where I was able to use my language skills, and there I learned a lot about international business and creating relationships with clients , among other things. As my skills improved, I felt an increasing desire to build up experience overseas, rather than in Japan, and to broaden my career. It was at that point that I learned that Noevir Group was looking for people for the Overseas Business Development Department, and so I determined to reapply.
I have always considered the good-naturedness of the employees to be one of Noevir's strengths, so I did not feel apprehensive about joining the company again; but I was delighted by the warm welcome I received on returning.
Having worked in a different company gives me a new perspective on things, and I feel myself growing day by day. Right now, in preparation to work in the Overseas Business Development Department, I'm focusing on acquiring a deeper knowledge about beauty and our products as well as building up my sales skills at a sales base in Japan.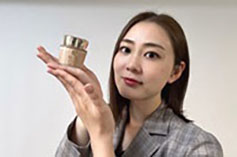 Domestic Business Development
Kyoka Kitagawa
TOKIWA Pharmaceutical Co., Ltd.
When I first worked at TOKIWA Pharmaceutical, I really enjoyed taking part in starting up new projects related to machinery. However, I regrettably had to resign to take care of my mother and started working at another company close to our home.
During that time, I developed a deeper specialist knowledge, and worked on acquiring qualifications, and one day a trusted senior colleague in my old department invited me to reapply for TOKIWA Pharmaceutical.
To tell the truth, I was a bit unsure whether it would be OK to come back, but I had a passion for the work, and I was reassured by the fact that the team members in my department had not changed, so I resolved to apply.
On my first day back, I was welcomed with smiles, and I felt anew that the strength of this company is in the warmth of the people there.
Today I have a broader perspective than when I was employed here in the past, and I continue to approach my work with a strong sense of motivation.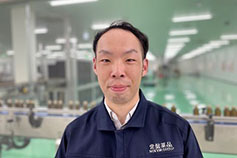 Production Management
Masaki Imai
Noevir Aviation Co., Ltd.
I used to work in Noevir Aviation's Osaka location as a helicopter pilot, but I had to resign and return to Tokyo in order to care for my parents.
After that I worked at several companies in different locations as a pilot. The reason I returned to Noevir Aviation was that I had been living and working away from my family for a long time and I felt it was time to return to living with them in Osaka.
Around the time I started thinking that, I was invited to consider returning by a senior colleague who had always looked after me.
I felt a little unsure of how to act returning after about 20 years. However, the Company has a friendly corporate culture and environment, and I was very grateful to receive a kind welcome from colleagues whom I had not seen for a long time.
My work now is very satisfying, as I fly to offices, company facilities, and other locations, and I get to conduct longer flights all over Japan. I also have opportunities to be involved with new equipment, which adds excitement to my daily work.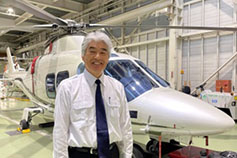 Aviation
Takahiro Uchida