Working with Employees
The Noevir Group facilitates the creation of comfortable workplaces that enable individuals of diverse backgrounds to fulfill their potential.
Each Group company's (Noevir Co., Ltd. and TOKIWA Pharmaceutical Co., Ltd.) Japanese-language website contains action plans based on the Act on Advancement of Measures to Support Raising Next-Generation Children and the Act to Advance Women's Success in their Working Life.
Supporting Women's Success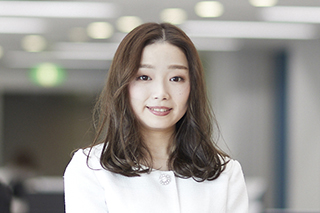 Midori Iwata
Leader Tokyo Sales Division
Noevir Co., Ltd.
I was appointed a chief beauty instructor in my fifth year after joining the company, and then I've been at a work at several branches as a manager.
I've been fortunate to experience work in a wide a variety of jobs and build a career regardless of age.
I'm grateful for the Noevir corporate culture and environment that always enables me to broaden my possibilities.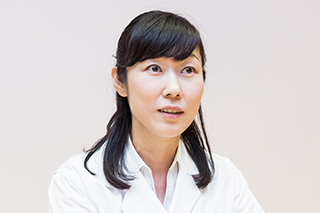 Yumi Murakami Ph.D., Manager,
Nov Academic Research Dept.,
TOKIWA Pharmaceutical Co., Ltd.
The R&D (NOV) Business Division is currently conducting clinical evaluation on products for customers following research and development at laboratories.
Seeking to further improve my skills and techniques, I received the opportunity to learn more as a dermatology researcher and in 2016 became a medical doctor.
I'm very grateful for an environment that provides opportunities regardless of gender or age, and want to utilize my newly acquired knowledge and techniques in my work going forward.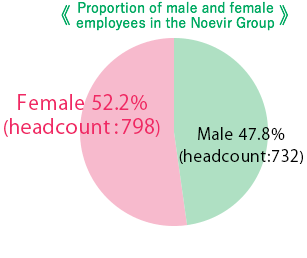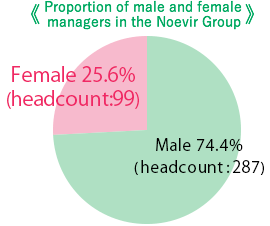 (As of September 30, 2019)
Employment of Foreign Nationals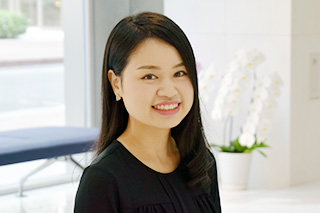 Zhaoli Wei
Overseas Business Division
Noevir Co., Ltd.
Together with employees from a variety of countries, I am striving daily to carve out new markets overseas, raise recognition of the Noevir Group in foreign countries and connect this to expanding sales.
Within the company there are exchanges of various perspectives and opinions and new innovations are being created daily. I feel the worth of my work, which enables me to leverage my strengths as a non-Japanese.
Initiatives for Changing Workstyles
To improve employee creativity and productivity and aiming to create innovation we realize a variety of working styles not bound by time or place.
Introduction of Telecommuting
Introduced telecommuting where employees can select a workplace matching the needs of their work. The objectives are to enable new concepts or ideas to arise in a different environment, realize more effective use of time and raise productivity.
Introduction of Freely Changing Desks
Employees working in the Tokyo head office may change their desks freely, enabling lively exchanges of opinion across sectional boundaries.
Company-wide Leave Work on Time Day
Employees are recommended to leave work on time every Wednesday. We strive for self-awareness, raising time management awareness to accomplish work efficiently within working hours and use time outside of the company for physical and mental refreshment.
Promotion of Using Paid Vacation Leave
Introduced paid vacation leave to celebrate commemorative occasions or important dates for the employee or their family members, including birthdays, anniversaries and the like. We also recommend planned use of vacation leave through applications made quarterly via a leave planning chart.
System to Support Work-Life Balance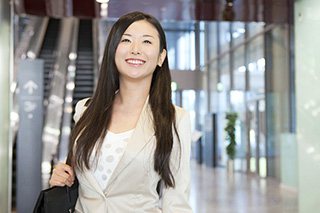 The Noevir Group supports employees in leading lives that enable them to balance both work and their homes and to lead fulfilled lifestyles. We have devised a variety of measures to support a work-life balance to enable an enhanced career while going through childbirth, child-raising or nursing care.
System
Overview
Childcare leave
Can be taken until the child is 3 years old
Short-term childcare leave system (encouraging male employees to take childcare leave)
Five days (paid leave) can be taken until the child is 3 years old
Childbirth leave
Two days leave can be taken when a spouse is giving birth
Shorter working hours for childcare or nursing care
A system enabling shorter working hours of up to two hours per day is offered until March 31 of the year in which the child ends third grade at elementary school. Multiple applications are permitted.
A system enabling shorter working hours of up to two hours per day is offered for those providing required nursing care. Multiple applications are permitted.
Nursing care leave
Up to three times of nursing care leave (93 days in total) can be taken for each person who needs the care
Child nursing care leave
Up to five days (unpaid leave) can be taken to care for a sick or injured child up until they have started elementary school
Respecting Diversity
Employment of People with Disabilities
As of September 2019, the Noevir Group has 23 employees with disabilities employees with disabilities performing their jobs at the same workplace as people without disability. The longest period of employment for an employee with a disability is 37 years. We support employees with disabilities to fulfill their potential through close communication at each workplace.
Consideration to occupational safety and health
Employee health management
In April 2018, we began to provide assistance to employees' health promotion efforts, taking a management approach that places even greater emphasis on ensuring employee health.
Human Rights Awareness Activities
The Noevir Group employee code of conduct includes "respect for human rights," "prohibition of harassment" and "prohibition of all forms of discrimination." With the objective of further raising awareness of compliance with laws and regulations, we use measures such as level-based training and inviting outside lecturers to provide training and awareness-raising activities regarding fair employment selection, sexual harassment and power harassment.
Medical Consultations for Employees
As a company that creates beauty and health, the Noevir Group has established a system where employees can easily undertake a self-diagnosis or consult with an external institution to maintain their physical and mental health.