Working with Customers and Business Partners
Working with Customers and Business Partners
We Value Communication with Customers
We value communication with customers and respond to various inquiries, requests, expressions of opinion and the like promptly and appropriately, and believe that reflecting in corporate activities customers' opinions provided through inquiry helplines is an important corporate responsibility. We share customers' valuable opinions throughout the Company in a speedy manner and utilize them in improving products and enhancing services.
We Provide Safe and High-Quality Products
Initiatives to Enhance Quality
Based on a quality policy placing the highest priority on customer satisfaction while providing safe and high-quality products, we work to ensure the stable provision of high-quality products capable of satisfying stringent safety standards.
At the Shiga Factory, we have established a management system that satisfies the technical requirements stipulated in Good Manufacturing Practice (GMP) guidelines for the manufacture and quality control of cosmetics alongside its in-house manufacturing management system encompassing all its production sites. In October 2015, the factory acquired certification for compliance with ISO 22716: Cosmetics—Good Manufacturing Practices (GMP)—Guidelines on Good Manufacturing Practices. At the Mie Factory, we have a sophisticated management structure that clears the Ministerial Ordinance on Standards for Manufacturing Control and Quality Control for Drugs and Quasi-drugs (GMP) in the production of foods, centering on drinks.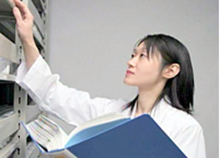 Considering Quality from the Raw Materials Procurement Stage
We work together with cooperating companies to ensure the stable quality of raw materials by considering quality from the raw materials procurement stage, repeatedly verifying quality standards.
Moreover, in regard to the research and development of cosmetics and quasi-drugs, the Noevir Group will continue to develop cosmetics by developing alternative methods without performing animal testing, including in outsourced work.
※This excludes instances where we are held responsible by society to evidence the safety of a product or where it is required by administrations in particular countries.
Building an Original Production Management System
We have created an original production management system that we use to manage all processes from receiving raw materials through to production and inspections until delivery. The management system in place keeps production records that enable rapid confirmation of the inspection and process status even after purchase.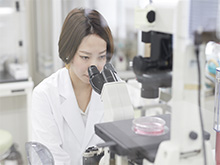 Essential Business Partners for Continuing Business
The Noevir Group treats business partners as equals and strives to build good partnerships to be able to provide customers with safe, high added-value, high quality products and services. In order to realize sustainable management, development and growth for both parties, we collaborate amid a situation of mutual trust and communication to continue actively creating original and imaginative work and consistently make refinements and improvements.